Contact for a Free Quote!
Contact for a Free Quote!
Carpet Cleaning
We extract all the dirt, grime & debris of 100% of your carpet yarns. We don't just buff the surface like some bonnet or carbonation methods (Dry-Chemical Systems) do. With our cleaning process your carpets and rugs will stay cleaner longer because we extract all the dirt & debris, kill germs, bacteria, and dust mites – our high powered, truck-mounted steam extraction process kills and extracts most germs, bacteria, and dust mites from your carpet fibers. 98% of the carpet mills recommends Hot Water Extraction (steam) as the preferred cleaning method. Serving Greenville NC and Wilson NC.
Upholstery Cleaning
Depending on the type of fabric, we will employ different methods of cleaning. Dry solvent cleaning is thought of as the safest method. The upholstery shampoo method is quick & effective and dries quickly. Dry foam cleaning is similar to the shampoo method but it uses less moisture so it dries even faster. Hot water extraction cleaning is the most effective way to remove heavy soils, provided the fabric is compatible with this method. This is also the preferred method for restorative cleaning and for sanitized cleaning. Serving Greenville NC and Wilson NC.
Tile & Grout Cleaning
You'll get the latest tile and grout systems. My system will blast old soiled in your grout line. When you see the dirt disappear right before your eyes, you'll be amazed! You won't have to wait either, with just the first few lines I clean you'll see the difference. That's why I want you to see the results for yourself. Call now to schedule your appointment! Currently serving Greenville NC and Wilson NC.
A Note from Premium Care Solutions
Dear Homeowner,
Choosing a carpet cleaner isn't easy.
Why?  Because you're bombarded with misleading advertising, confusing claims and simply bad information.
From super-low prices and high-pressure sales – to unqualified technicians and near-worthless methods – how do you ever find a qualified, competent, professional carpet cleaner?
You start by reading this Consumer's Guide.  In this fact-filled booklet, you'll discover how to avoid four carpet cleaning rip-offs, eight mistakes to avoid when choosing a carpet cleaner, and four steps to a fresh, clean, healthy carpet.
We wrote this guide to help you better understand carpet cleaning.  Now, with this information, you can make an informed, intelligent decision.
And if you have any questions about carpet or upholstery cleaning, you're invited to call us at 252-752-0828.  We've dedicated our business to educating consumers.  We'll be happy to help you in every way.
Cordially,
Ben Smith
PCS of Greenville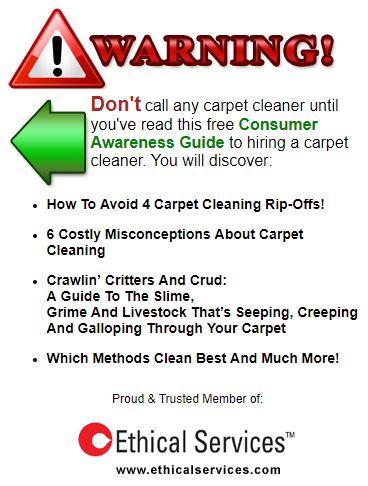 Carpet Audit ™, Consumer Awareness Guide™, Most Thorough Cleaning Ever or it's FREE®, and Ethical Services™
are Registered Trademarks and Trademarks of Piranha Marketing, Inc., and are used on this site with permission.